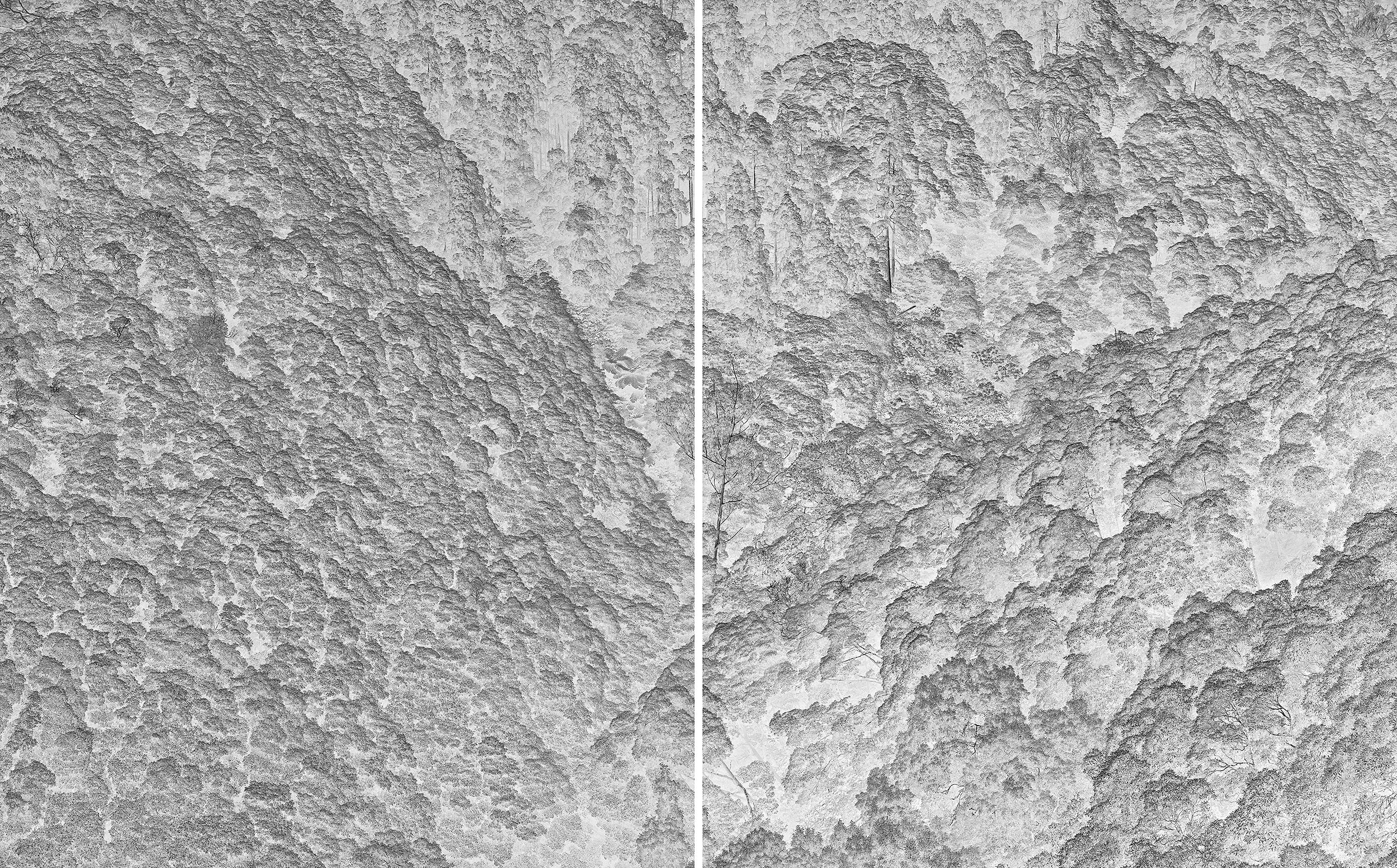 Forest, 2018, archival pigment print on Hahnemühle Photo Rag Baryta paper, diptych, 155 x 250 cm

The forest with its infinitely intricate complexity appears as a symbol of personal identity and the paucity of human perception. A forest is continuously undergoing millions of lesser or greater transformations. The components and molecules of plants, animals and fungi living in a forest constantly change, entities or entire species are born or disappear forever. A forest is the scene of never-ending dramas. Nevertheless, humans talk about a forest existing for millions of years, while it is only the location that is unchanged.

The diptych presents a forest in the Azores. As a result of their remoteness from human communities the Azores were regarded as a natural evolutionary laboratory until the end of the 19th century. The unique combination of isolation and diverse habitats on the islands allowed for the development of hundreds of species of plants, birds and other animals that are endemic to the islands, meaning they are found nowhere else in the world. In the past 100-120 years the four species, Pittosporum undulatum (Australian cheesewood), Cryptomeria (Japanese cedar), Dicksonia antarctica (Man fern) and Hedychium gardnerianum (Kahili ginger) 'brought in' by people from Asia and Australia, which can be seen in the diptych, have spread, transforming the entire world of the forests, changing the habitats and the way of life of the local wildlife and had a significant impact on the Azorean ecosystems. Theoretical debates about non-indigenous species signify a constant challenge and confusion in contemporary ecological and philosophical theories.
Forest, 2018, detail, archival pigment print on Hahnemühle Photo Rag Baryta paper
Forest, 2018, detail, archival pigment print on Hahnemühle Photo Rag Baryta paper
Forest, 2018, detail, archival pigment print on Hahnemühle Photo Rag Baryta paper
Forest, 2018, archival pigment print on Hahnemühle Photo Rag Baryta paper, diptych, 155 x 250 cm, installation view: Robert Capa Contemporary, Budapest, Hungary, 2022